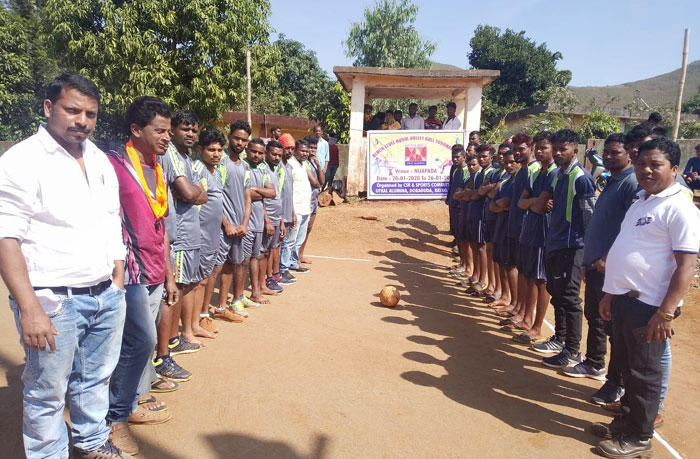 Bhubaneswar : As a part of its CSR initiative, to promote rural sports and culture in the periphery, a block level rural volley ball tournament was organized by Utkal Alumina International Limited (UAIL), a fully owned unit of Hindalco, the metals flagship company of Aditya Birla Group, at its R&R Colony-I in Kashipur block of Rayagada district, from 20th - 25th January 2020. Total 32 teams of Kashipur block participated in the said tournament. This was inaugurated on 20th Jan 2019 by Shri Siba Sankar Mahapatra DGM – CSR of Utkal Alumina. 
The high voltage final match was played between Ramibeda and Mankadjhola in which Mankadjhola  village became the winner and Ramibeda turned out to be runners-up. Mr. T. M Prakash,  VP -  HR and IR attended the final match and prize distribution ceremony as Chief Guest on 25th Jan 2020. Siba Mahapatra, Sukanta Mahapatra ,  Belakar Naik of Utkal Alumina also attended the final match and encouraged both the teams. The winner and runners-up trophies were handed over to the teams along with individual prizes to the players of both the teams.
Appreciating this initiative by the CSR department, Shri N. Nagesh Unit Head & President of UAIL, states that "Such events are essential to promote sports and encourage youths of this doomy and remote area. The company is committed and look forward to work in line of scouting hidden talents and also promote them to state and national level platforms in fulfillment of their dreams."
Large crowd of volley ball lovers gathered during the matches and cheered the players irrespective of their community and villages affiliations. The event was proved to be a great success with strong support and appreciation from the natives of the peripheral villages. This sports event was well managed and facilitated by Gajendra Naik, Gobinda Naik and Alaram Bhatra and the team of volunteers.